Term4 Training - COVID ALERT L2 TRAINING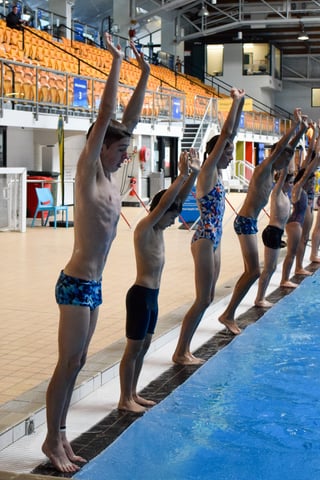 Training for Term4 under COVID Alert L2 restrictions - three programmes will be available:
1. For registered WDC Skills, Age Group & Elite squad members
Dry gym & pool sessions - available Tuesday - Sunday
Register using the Current tab below

2. For registered Grades (Leap 30min & Bounce 45min) squad members
Pool sessions available on either Wednesdays (Leap 4pm-4.30pm / Bounce 4.30pm-5.15pm) or Saturdays (x6 sessions)
Register using the GREEN Sign In button below
3. For those wishing to register for the WDC Club night
Pool session available each Tuesday - 4pm-4.30pm
Register using the BLUE Register button below
See right & scroll right down to view Term4 programme options.
We have limited places available in each session.
All sessions are drop off & pick up at the main doors only - no spectators.
WCC pool entry payable on arrival for all sessions.
Please make your bookings as soon as possible - places available on a first come, first served basis.
Any questions, please Contact Us. Thanks.
COVID-19 ALERT L2 REQUIREMENTS - conditions of booking & participating:
1. Do not attend if you have not booked.
2. Do not attend if you have been identified as a contact of a confirmed COVID case or if you feel unwell in any way.
If you have any sniffles, cold or flu symptoms, check here & phone Healthline & get tested.
Do not attend training again until you have been cleared by health officials. Training fees charged will be refunded in this situation.
3. Maintain high levels of hand hygiene - bring your own hand sanitizer. Use hand sanitizer when you arrive & when you finish training.
4. Wear a mask/face covering to and from The Hub facility as well as to and from WRAC.
Coaches will wear a mask during training at The Hub. Athletes are not required to do so but may do so if they wish to.
5. Scan in on arrival using the COVID-19 Tracer app (mandatory).
6. Come dressed ready to train (where possible) - access to changing rooms will most likely be limited.
7. Bring your own towel for gym training.
8. No shammies/chamois for pool training.
8. Maintain 2m distancing from others while training.
Thank you for interest - if you have any questions prior to booking, please Contact Us to ask.