Community Diving - Sunday Sessions!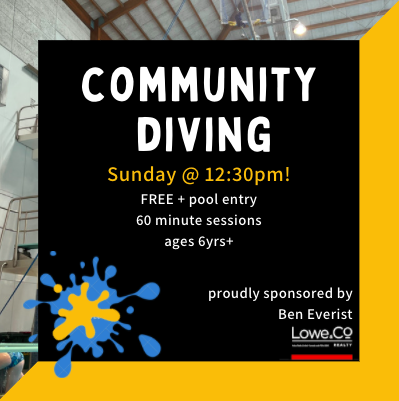 No need to book; just turn up and register at the diving pool.
WCC pool entry is payable on arrival at WRAC.
Divers need to be aged 6yrs+, be confident in 5m deep water, and be able to swim comfortably 25m.
Term 4 Dates
October 30
November 6 / 27
December 4 / 11
WDC have teamed up with Ben Everist - an award-winning real estate agent for Lowe & Co Realty!
For every successful client sale referred through your family or friends, Ben Everist will donate $1000 to support individuals with the costs of registrations fees so you can participate in diving! $500 of this will go back to Wellington Diving so we can provide for the Community Diving Program.
Ben is proud to have been part of the Wellington community for 10 years and is passionate about building long-term relationships and giving back.
Family. Whānau. Community. Fun. Fairness. These matter most to Ben. As a family man who recently welcomed his fourth child, Ben has bought and sold homes of his own in the Wellington area over the last decade. When he's not working, he's parenting, renovating, and involved with kids' sport and activities, schools, and extended family.